Free Bodybuilding
Supplement Review Book
Discover The Secrets
To Getting Huge and Ripped!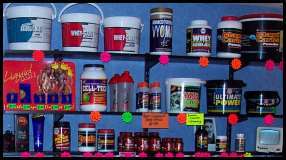 The Sports and Bodybuilding Supplement Review Book is jam-packed with a wealth of knowledge on the technical aspects of supplementation and the clinical effects on the body in "real-life" practical application. Many people feel this book is better the then ones written by Bill Phillips.

This book has already helped thousands of bodybuilders around the world to effectively utilize their supplements for the most rapid gains in strength, muscularity, and explosive power. Once you read it, you will experience all those effects and more. And with that knowledge, the potential for building incredible new muscle mass is limitless.



Download your FREE Bodybuilding Supplement Review Book Here!

Get Your
FREE Anabolic
Workout eBook!
Our Products